Elizabeth Hanson M. Ed. May 19, 2023
"History, despite its wrenching pain, cannot be unlived, however, if faced with courage, need not be lived again."
- Maya Angelou (1928-2014)
There has been a substantial increase in the number of people who have died in all age groups since March 2020. In this article we will review the increase in deaths in the 25 to 44 age group.
The Covid era ended formally on May 11th 2023. Many of us felt relief to put the Covid era behind us. Now is the time for reflection. Major endings in life, like death, divorce, loss of a business or the ending of good health, call on us to reflect. We should look back at the Covid era (2020-2023) and think about what occurred: the increases in death, health problems, poverty, depression, crime, censorship and divisiveness, and we should look for the root causes. We need to fix what has been broken. We need to learn from what has happened.
African journalist Chris Waldburger agrees. He published this article on May 18th 2023 as I was putting the finishing touches on this one:
"Bodies keep piling up around the world as current excess death rates easily surpass Covid"
He cites a Norwegian study (my underlining):
"… (a) correlation between vaccination levels and excess mortality has also been confirmed by Norwegian scientists, who published their findings in the Asian Pacific Journal of Health Sciences:
Analyses of 31 countries weighted by population size show that all-cause mortality during the first 9 months of 2022 increased more the higher the 2021 vaccination uptake… Despite a possible preventive effect in 2021, we cannot rule out that COVID-19 vaccination uptake in Europe has led to increasing 2022 all-cause mortality between January and September.
Oops.
Perhaps even more alarming than the deaths, however, is the complete lack of interest or curiosity on the part of the majority."
I hope you have curiosity.
Since April 2020, I've read many things that doctors, scientists and researchers have written about the increasing mortality in 2020-2023. For example, here is a cumulative record (a running total) of the total number of US deaths related to Covid (per million) from Our World in Data. (I put in the dates to show the slope of the line after mass vaccination):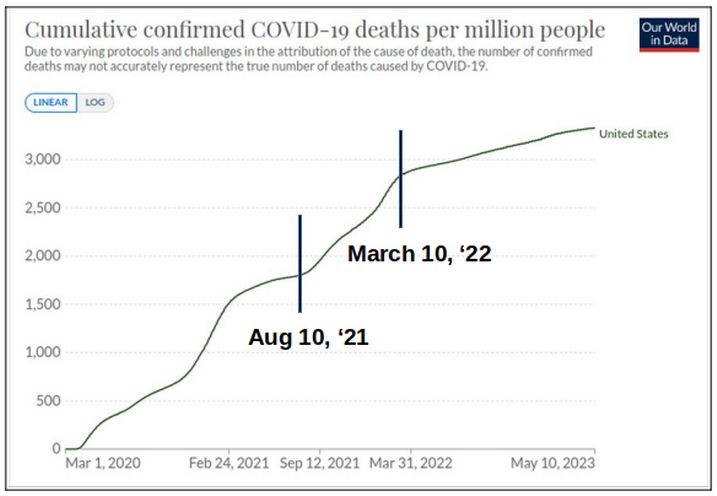 It has been grim, puzzling and at times very sad to look at death. My purpose in writing this article is to look at excess mortality in the 25-44 age group to find out how many deaths can be attributed to Covid-19 (as recorded at the CDC) and how many can't.
I chose the 25-44 year old population because there has been so much excess mortality in that age group, in a population we generally don't expect to die. That age group had comprised less than 3% of all Covid deaths in the first few weeks of Covid in 2020. I also chose the 25-44 age group because it is one of the several age groups whose deaths are tracked on US Mortality.
To write this article, I got numbers from the CDC (CDC.gov), US Mortality (usmortality.org), Mortality Watch (mortality.watch) and Our World in Data (Ourworldindata.org). I invite you to look at these sites.
Let's start by defining the term excess mortality: