In the weeks before the 2020 Presidential Election, the New York Post wrote an article exposing hundreds of emails that were on Hunter Biden's laptop. Here is a link to this now famous article: https://nypost.com/2020/10/22/hunter-ex-partner-tony-bobulinski-calls-joe-biden-a-liar/
A tranche of emails from the Hunter Biden laptop revealed how he leveraged his family connections to land lucrative deals overseas and boost his Burisma pay. Here are quotes from the reporter who published the initial report in October 2020:
"Over several days, just weeks before Americans would vote for their next president, I revealed verified authentic emails from the Biden laptop showing Ukrainian business partners receiving leaks from the Obama White House, I documented an off-the-books meeting between then-Vice President Biden and a Ukrainian energy executive, and introduced the world to "the Big Guy," who got action on a deal with CEFC China Energy Co… The Post published a federal subpoena showing the FBI was in possession of the Biden laptop since December of 2019.
But when the stories appeared on social media that morning — the venue where millions of Americans go to find their news — within hours, the reporting was censored on all major platforms, on the basis of being called "Russian disinformation." Twitter refused to allow users to share the link to the stories, banned the links from being shared and locked the Post out of its account… It exposed the unholy alliance between the Intelligence Community, social media platforms, and legacy media outlets."
On Oct. 19, 2020, more than 50 former U.S. intelligence officials, including CIA Director John Brennan, signed a public letter claiming the material published by the Post from Hunter's hard drive "has all the classic earmarks of a Russian information operation," although none of them had seen it. Joe Biden cited their letter in the presidential debates to deflect questions about the laptop.
Those who lied to the American people in order to manipulate the 2020 Presidential election by signing this letter included:
James Clapper, Mike Hayden, Leon Panetta, John Brennan, Thomas Finger, Rick Legett, John McLaughlin, Michael Morrell, Mike Vickers, Doug Wise, Nick Rasmussen, Russ Travers, Andy Liepman, John Moseman, Larry Pfeiffer, Jeremy Bash, Rodney Synder, Glenn Gerstell, David Buckley, Nada Bakos, Patty Brandmaier, James Bruce, David Cariens, Janice Cariens, Paul Kolbe, Peter Corsell, Brett Davis, Roger George, Steven Hall, Kent Harrington, Don Hepburn, Tim Kilbourn, Ron Marks, Jonna Mendez, Emile Nakhleh, Gerald Oshea, David Priess, Pam Purcilly, Marc Polymeropoulos, Chris Savos, Nick Shapiro, John Sipher, Steve Slick, Cynthia Strand, Greg Tarbell, David Terry, Greg Treverton, John Tullius, David Vanell, Winston Wiley and Kristin Wood.
https://www.politico.com/f/?id=00000175-4393-d7aa-af77-579f9b330000
Nearly all of the above people work for the CIA and everyone of them knew that the Biden laptop was real and in the position of the FBI and that it was not a Russian plot. If we had a functioning government, the CIA would be disbanded and all of these people would be arrested for fraud and be serving long jail terms. Instead, you can count on them to manipulate the 2024 US Presidential election just like they manipulated the 2016 and 2020 Presidential elections.
On June 20, 2023, sworn testimony before a House Censorship Hearing confirmed FBI has the Hunter Biden laptop 11 months before the 2020 Election
https://judiciary.house.gov/sites/evo-subsites/republicans-judiciary.house.gov/files/evo-media-document/morris-testimony.pdf
On August 26, 2022, the New York Post published a poll conducted by the New Jersey-based Technometrica Institute of Policy and Politics confirming that 8 out of 10 voters would have changed their votes had they been aware that the Biden laptop was real. https://nypost.com/2022/08/26/2020-election-outcome-would-differ-with-hunter-biden-laptop-coverage-poll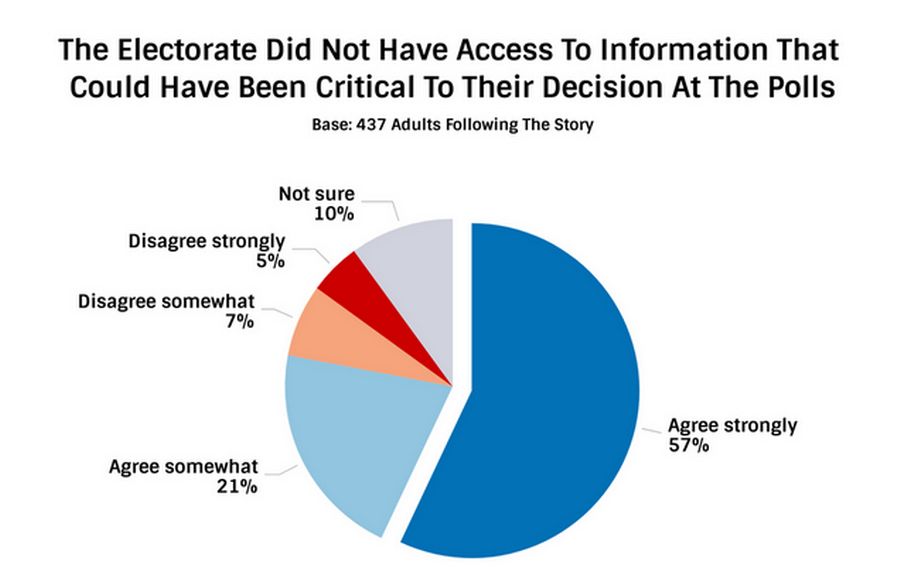 Thus the FBI together with the Biden campaign, Twitter and Facebook lied to the American people in order to steal the 2020 Presidential election.
This was after the FBI and CIA together with the Clinton campaign, Twitter and Facebook worked together in an attempt to blame Russia for the 2016 Presidential election. In fact, it was not Russia that manipulated the 2016 Presidential election, it was the FBI, CIA, DNC, Facebook, Twitter and Clinton campaign. In January 2017, I wrote a detailed summary of the evidence confirming this: https://turningpointnews.org/hack-everything-special-repor
As we briefly review below, it was not Russia that started the Ukraine War. It was the CIA that started this war by overthrowing the elected government of Ukraine in 2014. Because of Joe Biden lies about the his son's laptop and his lies about Russia and his lies about Ukraine, more than 300,000 Ukrainians have been killed and the world has been brought to the brink of nuclear annihilation. These lies need to be exposed because there is a direct link between the Biden Burisma Bribery scandal and the current proxy war against Russia.
To understand the Joe and Hunter Biden Burisma Bribery scandal, we need to understand the timeline of events leading to it. Here is a detailed summary of events – most of which have never been reported by the corrupt corporate media.
From Crack Cocaine and Prostitutes to Nuclear War
These events not only confirm that Joe Biden was directly involved in a massive corruption scheme, but they are also relevant to the current US Proxy War in Ukraine which has brought us to the brink of nuclear war with Russia.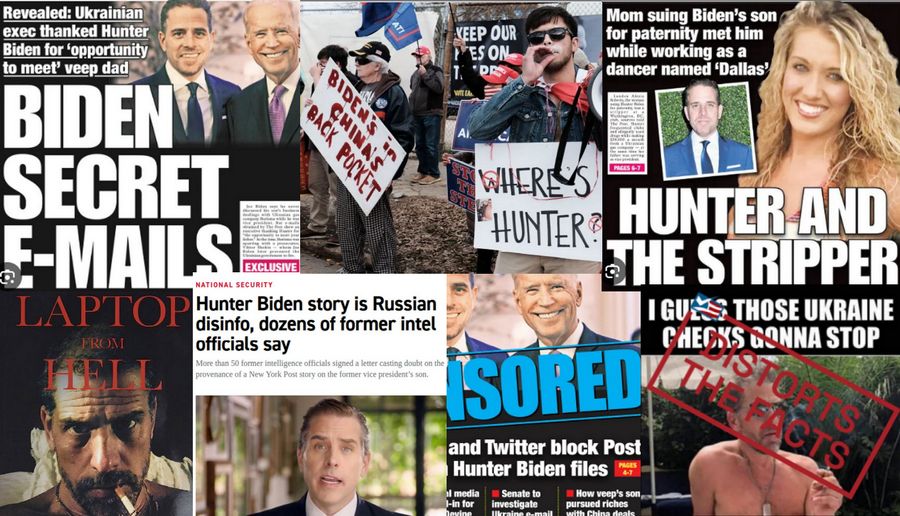 It all started with an actual election…
2010 Pro-peace Candidate wins Ukrainian Election
On February 7, 2010, in the last truly fair and Democratic Presidential Runoff election held in Ukraine, a Pro-peace candidate Viktor Yanukovych won 49% of vote compared to a Pro-NATO incumbent who got 46% of vote.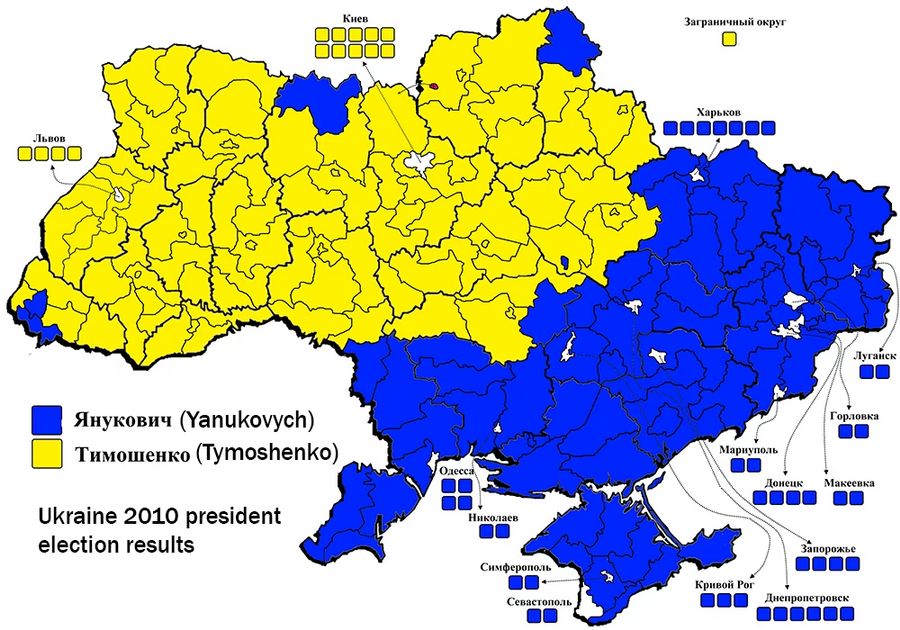 Note that the Donbas and Crimea in what was then Eastern Ukraine voted overwhelmingly for the Pro-peace candidate while the Western part of Ukraine voted for the Pro-NATO candidate.
Yanukovych was the leader of the biggest party in Ukraine called the Party of Regional Revival which advocated for local control and peace with Russia. By local control, he meant that the people of each region, such as the Donbas, should be allowed to elect their own local governments. One of his key issues was that the Russian language to be a second official language in Ukraine as over 90% of the people in Donetsk and Eastern Ukraine spoke Russian.
2012 Ukrainian Prosecutor begins Burisma investigation
In 2012, the Ukrainian Prosecutor General Viktor Pshonka began investigating Ukrainian oligarch Mykola Zlochevsky, owner of the natural gas company Burisma, over allegations of money laundering, tax evasion, and corruption. The kind of corruption was revealed in a 2014 British Court case in which investigators claimed the Zlochevsky had robbed the Ukrainian people when he was the Ukrainian "Minister of State for Oil and Gas Licenses" by awarding gas "sweetheart" deals to his Burisma gas company.
Hunter Biden's boss: Here is a picture of Mykola and his mansion:

2013 Ukraine President agrees to economic deal with Russia
On December 17, 2013, Yanukovych, announced that Ukraine agreed to a new economic deal with Russia. Russia agreed to cut the price of gas to Ukraine by 30% and buy $15 billion of Ukraine bonds.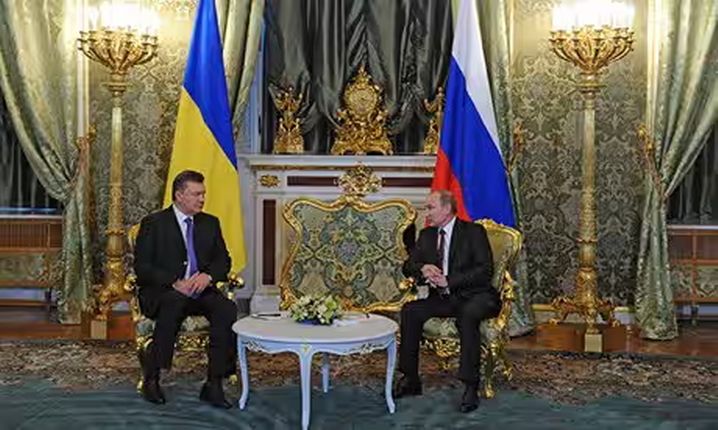 Russia's President Vladimir Putin (right) speaks with his Ukrainian counterpart, Viktor Yanukovych, at the Kremlin -.December 2013
2014 CIA overthrows Ukrainian Government
In January and February, 2014, the CIA and US State Department organized the overthrow of the elected government of Ukraine. Among the first acts of the CIA puppet government was to outlaw the Party of Regional Revival, close Russian churches and outlaw the Russian language – all of which led the people of the Donbas to rise up in rebellion. In addition, on February 23, 2014, the Ukraine Puppet government issued an arrest warrant for the Ukrainian Burisma investigator Pshonka – who fled to Russia.
On February 24, 2014, the Ukrainian Puppet government appointed Oleh Makhnitsky to be the Prosecutor General.
2014 April 15 Hunter Biden joins Burisma
On February 18, 2014, Hunter Biden was discharged from the Navy for testing positive for cocaine use. Two months later, on April 15, 2014, Hunter Biden joined the Board of Burisma. Hunter Biden was paid about $166,000 per month or about two million dollars a year to be on the board of Burisma. Hunter Biden had no knowledge of the gas industry, so what was he paid two million dollars for? At the time, Hunter's father Joe Biden was the lead US person on policies towards Ukraine which eventually led to billions of dollars in loans and military aid.
On April 16, 2014, Joe Biden met with Devon Archer, a business partner in Rosemont Capital with Biden's son Hunter. (Federal agents would later arrest Archer in May 2016 for defrauding a Native American tribe.)
On April 22 2014, Burisma, announced that Devon Archer had been appointed to their board of directors. This was despite the fact that Devon Archer had no experience either with Ukrainian law or the Energy sector in general. Burisma was controlled by Mykola Zlochevsky and Ihor Kolomoiskyi - two of the most powerful billionaires in Ukraine. Kolomoiskyi also controlled Ukraine's largest bank called Privatbank.
2014 $1.8 Billion in US Aid to Ukraine disappears
On the day before Devon Archer's hiring, April 21, 2014, vice president Biden landed in Kiev for high-level meetings with Ukrainian officials. He spearheaded the effort to invest billions of dollars from the US and the International Monetary Fund (IMF) into Ukraine. Biden arranged for 1.8 billion in US tax payer backed loans to be given to Ukraine via the IMF. The 1.8 billion was deposited in PrivatBank where it then disappeared.
According to the Ukrainian anti corruption group Nashi Groshi (which translates as Our Money), "This transaction of $1.8 billion ... with the help of fake contracts was simply an asset siphoning operation…. PrivatBank has connections to 42 Ukrainian companies, which are owned by another 54 offshore companies based in the Caribbean, USA and Cyprus. These companies took out loans from PrivatBank totaling $1.8 billion."
In 2015, Global Research published an article stating: "Investigative reporters have discovered that IMF bailout funds intended for Ukraine have mysteriously found their way to a Cyprus bank account controlled by notorious Ukrainian oligarch Ihor Kolomoyskyi.
https://www.globalresearch.ca/1-8-billion-imf-ukraine-bailout-money-deposited-in-ukraine-oligarch-kolomoyskyis-cyprus-offshore-bank-account/5472971
A huge chunk of the $17 billion in bailout money the IMF granted to Ukraine in April 2014 has been discovered in a bank account in Cyprus controlled by exiled Ukrainian oligarch Ihor Kolomoyskyi, the German newspaper Deutsche Wirtshafts Nachrichten [DWN] reported on Thursday. In April 2014, $3.2 billion was immediately disbursed to Ukraine, and over the following five months, another $4.5 billion was disbursed to the Ukrainian Central Bank in order to stabilize the country's financial system."
"The money should have been used to stabilize the country's ailing banks, but $1.8 billion disappeared down murky channels," writes DWN. Kolomoyskyi is unlikely to face justice, as he is currently living in exile in the US. He fled Ukraine in 2015. Kolomoyskyi's fortune is estimated by Forbes at $1.27 billion."
In December 2016, Ukraine's government was forced to nationalize Privatbank in order to shore up Ukrainians' savings. A Ukrainian lawmaker called it the "greatest robbery of Ukraine's state budget of the millennium."
In February 2016, the government seized Burisma founder Zlochevsky's assets and placed him on Ukraine's wanted list. The Ukrainian Prosecutor General's Office also seized Burisma's gas wells.
So, we know there were a couple of corrupt billionaires running a corrupt corporation called Burisma. But what was Hunter Biden's role in all of this corruption?
2014 to 2015 Hunter Biden paid millions by Burisma
Between April 2014 and October 2015, more than $3 million was paid out of Burisma accounts to an account linked to Hunter Biden's and Devon Archer's Rosemont Seneca firm, according to the financial records placed in a federal court file in Manhattan in an unrelated case against Archer.
On April 23, 2014, Hunter purchased a new sports car for $142,300. What kind of car costs this much?
On June 19, 2014, the Ukrainian Puppet government appointed Vitaly Yarema to replace Oleh Makhnitsky who was fired the previous day. Oleh then bought an $8 million mansion in London.
The following article, claims that Vitaly Yarema was "pushed out of office" on February 11 2015 for doing too much investigating on the Burisma case. It appears that Burisma was a political "Hot Potato."
https://johnhelmer.net/the-hunt-for-burisma-part-ii-what-role-for-igor-kolomoisky-what-london-missed-what-washington-doesnt-want-to-see/
2015 Shokin takes over Burisma investigation
In February, 2015, Viktor Shokin was appointed to be the Prosecutor General in Ukraine to replace Yarema. Shokin had previously worked in the Prosecutor General Office for Ukraine and had retired way back in 2003. He came out of retirement to clean up corruption (also known as corporate bribes and political kickbacks) in what many regard as the most corrupt nation in Europe. One of Shokin's primary targets was Burisma.
On March 20, 2015, Hunter Biden organized a business dinner at Café Milano in Washington, D.C. At his business dinner, Joe Biden stopped by to meet a high level Burisma official, Vadym Pozharskyi.
On April 17, 2015, Pozharskyi sent Hunter an email thanking him for arranging the dinner with Joe Biden.
On November 2, 2015, Vadym Pozharskyi met with high level U.S. level officials and asked them to come to Ukraine and talk with Prosecutor General Viktor Shokin and President Petro Poroshenko about ending the Burisma Mykola Zlochevsky's investigation.
The same day, November 2 2015, there was an assassination attempt on Shokin in Kiev which failed. The case was never solved.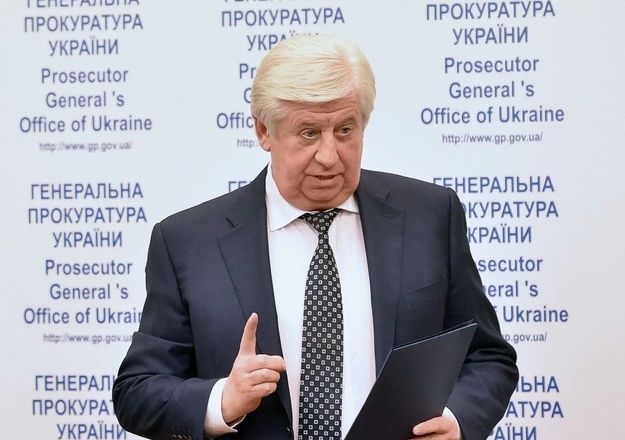 Ukrainian prosecutor general Viktor Shokin holds a news conference in Kiev in November 2015.
2015 Burisma and Biden plot to get rid of Shoki
On November 6, 2015, Amos Hochstein, a high level U.S. government official working in the Obama-Biden Administration, met with Hunter Biden to discuss the Burisma issue.
On November 11, 2015, Amos Hochstein met with Vice President Biden in the West Wing of the White House. The topic was not disclosed. On November 12, 2015, Amos Hochstein called Hunter Biden. The topic was not disclosed.
On November 14, 2015, Vadym Pozharskyi emails Hunter Biden confirmation that the Vice President will be traveling to Ukraine during the first week in December.
On December 7, 2015, while visiting Kiev for the 12th time in 2015, US Vice President Joe Biden threatened Ukrainian Puppet President Petro Poroshenko that, if he did not fire Shokin, Biden would withhold $1 billion in loan guarantees. Biden said: 'You're not getting the billion.' I'm going to be leaving here in, I think it was about six hours. I looked at them and said: 'I'm leaving in six hours. If the prosecutor is not fired, you're not getting the money,' Well, son of a bitch, he got fired."
Biden's boast that he was responsible for getting Shokin fired was captured on YouTube during an event at the Council on Foreign Relations in 2018. See this YouTube link to watch the video: https://www.youtube.com/watch?v=Q0_AqpdwqK4
Interviews with several senior Ukrainian officials confirm Biden's account, though they claim the pressure was applied over several months in late 2015 and early 2016, not just six hours of one day. https://thehill.com/opinion/white-house/436816-joe-bidens-2020-ukrainian-nightmare-a-closed-probe-is-revived/
On December 17, 2015, Vice President Biden hosted a holiday party at the Vice Presidential residence, which Amos Hochstein and Hunter Biden both attended.
2016 Shokin is fired
On February 11, 2016, Vice President Biden and President Poroshenko conducted a call.
On February 16, 2016, President Poroshenko asked Prosecutor General Shokin to resign.
On February 18, 2016, Vice President Biden called President Poroshenko to thank him for asking Prosecutor General Shokin to resign.
On February 19, 2016, President Poroshenko says he received Prosecutor General Shokin's letter of resignation.
On March 29, 2016, the Ukrainian Parliament approved President Poroshenko's firing of Prosecutor General Shokin. Shokin was was replaced by Yuriy Sevruk who lasted less than two months and was replaced by Yuriy Lutsenko who lasted to August 29, 2019. Both have been accused of corruption.
On September 4, 2019, Viktor Shokin submitted a signed sworn court affidavit to a European Court which you can read at the following link:
https://www.scribd.com/document/427618359/Shokin-Statement
He explains in detail over 11 pages the work he was doing at the time he was fired and his view of why he was fired.

In his sworn statement, Shokin stated: "The truth is that I was forced out because I was leading a wide-ranging corruption probe into Burisma Holdings, a natural gas firm active in Ukraine and Joe Biden's son, Hunter Biden, was a member of the Board of Directors.
On several occasions President Poroshenko asked me to have a look at the criminal case against Burisma and consider the possibility of winding down the investigative actions in respect of this company, but I refused to close this investigation… In my conversations with Poroshenko at the time, he was emphatic that I should cease my investigations regarding Burisma. When I did not, he said that the US (via Biden) were refusing to release the one billion dollars promised to Ukraine. He said that he had no choice, therefore, but to ask me to resign… It is clear to me that certain officials from President Obama;s administration, in particular the US Vice-President Joe Biden, directly manipulated the political leadership of Ukraine on false pretexts."
More recently, Shokin stated that, before he was fired as general prosecutor, he had made "specific plans" for the investigation that "included interrogations and other crime-investigation procedures into all members of the executive board, including Hunter Biden."
Some have claimed Shokin is making these statements because he has a grudge against Joe Biden for getting him fired. But there is now hard evidence to support Shokin Shokin.
Hundreds of pages of never-released memos and documents — many from inside the American team helping Burisma to stave off its legal troubles — conflict with Biden's claim that Shokin was not actively investigating Burisma corruption.
https://thehill.com/opinion/campaign/463307-solomon-these-once-secret-memos-cast-doubt-on-joe-bidens-ukraine-story
These documents make it clear that Shokin was planning on interviewing Hunter Biden and other Burisma Board members and that these embarrassing interviews would have occurred during the 2016 US Presidential Election – harming the reputation not only of Biden but also the reputation of Obama, Clinton and the CIA.
These documents also confirm that Burisma's American legal representatives, a group called Blue Star Strategies (BSS), met with Ukrainian officials just days after Biden forced the firing of the country's chief prosecutor and offered "an apology for dissemination of false information by US representatives" about the Ukrainian prosecutors, according to the Ukrainian government's official memo of the meeting. The effort to secure that meeting began the same day the prosecutor's firing was announced. https://www.scribd.com/document/427616178/Ukraine-PGO-Memo-Translation
Blue Star, using the Ukrainian embassy worker it had hired, eventually scored a meeting with Sevruk (the Biden approved person who replaced Shokin) on April 6, 2016, a week after Shokin's firing. Buretta, Tramontano and Painter attended that meeting in Kiev, according to Blue Star's memos.
The memo also quoted the Americans as saying they knew Shokin pursued an aggressive corruption investigation against Burisma's owner, only to be thwarted by British allies: "These individuals noted that they had been aware that the Prosecutor General's Office of Ukraine had implemented all required steps for prosecution."
Burisma, Buretta and Blue Star continued throughout 2016 to try to resolve the open issues in Ukraine, and memos recount various contacts with the State Department and the US embassy in Kiev seeking help in getting the Burisma case resolved.
In January 2017, just days before Trump took office, Burisma announced it had resolved all of its legal issues. The case was settled for $180 million dollars in fines for alleged tax issues. Joe Biden paid his final official visit to Ukraine just four days after this legal settlement was announced.
2018 Book Secret Empires
Peter Schweizer, the author is a book called Clinton Cash, discussed Joe Biden's role in the Burisma scandal in his 2018 book "Secret Empires: How the American Political Class Hides Corruption and Enriches Family and Friends."
He claims that under Biden's leadership, $3 billion in US aid went to Ukraine, and Burisma was implicated in the disappearance of $1.8 billion of that money (via the PrivatBank scandal). Apparently Burisma failed to pay taxes on the stolen 1.8 billion which led to the 180 million in fines.
2020 October Hunter Biden Business Partner Tony Bobulinski spills the beans
Former Hunter Biden business partner Tony Bobulinski revealed in that he spoke with Joe Biden in May 2017 after being introduced by Hunter, who reportedly described Bobulinski as "the one who's helping us with the business we're doing with the Chinese."
Bobulinski identified Joe Biden as "the big guy" with a 10 percent share in a planned deal with CEFC China Energy:
"I have heard Joe Biden say he has never discussed his dealings with Hunter. That is false. I have firsthand knowledge about this because I directly dealt with the Biden family, including Joe Biden," Bobulinski said following The Post's bombshell reporting on Hunter Biden's private emails. Bobulinski came forward earlier Thursday to corroborate emails revealed exclusively by The Post last week about the Biden family's murky overseas dealings in China involving both Hunter Biden and uncle Jim Biden. The US Navy veteran accused former Vice President Joe Biden of being directly involved in a plot to make millions of dollars, identifying to him as "the big guy" named in the May 13, 2017, email.
That email showed the four partners each getting 20 percent shares in the business, with 10 percent going to "Jim" and the remaining 10 percent "held by H for the big guy?"
2023 Hunter Biden Other Business Partner Devon Archer spills the beans
Devon Archer, a friend and partner of Hunter Biden said that Hunter Biden and the owner of Burisma Mykola Zlochevsky and Vadym Pozharski, a Burisma executive "called D.C." in December 2015 to ask the Obama administration to help fire the Ukrainian prosecutor investigating the firm. Archer said Zlochevsky and Pozharski "placed constant pressure on Hunter Biden to get help from D.C." in getting Ukrainian prosecutor Viktor Shokin ousted. Archer also said that Hunter Biden frequently called Joe Biden and put him on the speaker phone during business meetings with Burisma executives. This raises concerns that Hunter Biden was acting as a Foreign agent in violation of the Foreign Agents Registration Act.
Among the questionable transactions of another Biden and Burisma-related FARA agent was four hundred thousands of dollars in English Language tutoring lessons paid at a rate of $500 per hour.
https://johnhelmer.net/ukrainian-oligarch-victor-pinchuk-is-putting-his-money-on-joe-biden-for-president-at-40000-per-month-thats-3000-more-per-month-than-burisma-was-paying-hunter-biden/
A July 2019 article about Hunter Biden in the New Yorker indicated that Hunter had only recently resigned from the Burisma board. This means that Hunter Biden was on the Burisma board for about 5 years and made a total of about 3 million dollars to attend 10 board meetings. https://www.newyorker.com/magazine/2019/07/08/will-hunter-biden-jeopardize-his-fathers-campaign
The above article makes it clear that Hunter Biden had serious drinking and drug abuse problems before getting on the Burisma board in 2014 and continued to have serious drinking and drug abuse problems ever since. In fact, it is likely that Hunter spent the entire 3 million dollars he got from Burisma in the past 5 years on drinking and drug binges. This is money taken from the people of Ukraine to support the corrupt American and Ukrainian political systems.
2019 Ukrainian MP spills the beans
On October 9 2019, Ukrainian MP Andriy Derkach claimed that former Vice President Joe Biden received $900,000 from Burisma Group for lobbying activities, citing materials related to an investigation. Derkach publicized documents which, "describe the mechanism of getting money by Biden Sr." at a press conference at Interfax-Ukraine's press center in Kyiv on Wednesday.
https://en.interfax.com.ua/news/press-conference/617936-amp.html?__twitter_impression=true
"This was the transfer of Burisma Group's funds for lobbying activities, as investigators believe, personally to Joe Biden through a lobbying company. Funds in the amount of $900,000 were transferred to the U.S.-based company Rosemont Seneca Partners, which according to open sources, in particular, the New York Times, is affiliated with Biden. The payment reference was payment for consultative services," said Derkach.
Derkach also publicized sums of money transferred to Burisma Group representatives - including Joe Biden's son Hunter.
2020 FBI hides evidence of Joe Biden Burisma Bribery
On June 30, 2020, an FBI FD-1023 form was created. An FD-1023 form is generated by the FBI to memorialize information obtained from a confidential human source. This confidential human source told the FBI that an oligarch had told the CHS he had bribed then-Vice President Biden $5 million (and $5 million for his son, Hunter Biden) in exchange for certain actions related to Ukraine. The FBI has not revealed who this confidential human source was.
On July 20, 2023, Senator Chuck Grassley released an unclassified FBI-generated record describing a criminal scheme involving Vice President Joe Biden and a Burisma business executive. Senator Grassley acquired the 4 page record, an FD-1023, via legally protected disclosures by Justice Department whistleblowers.
The FBI informant stated that during his meetings with the head of Burisma in 2016 he was told: "Burisma hired Hunter Biden to protect them, through his dad, from all kinds of problems." The informant was told by Burisma owner Zlochevsky that "it cost 5 million to pay one Biden and another 5 million to pay another Biden." Zlochevsky complained that "his dog was smarter than Hunter Biden."
My conclusion is that bribery and corruption is just how things are done in Ukraine. It is also apparently how things are done at the FBI.
July 19, 2023 Two IRS Whistleblowers spill the beans
The House Oversight Committee held a hearing with two IRS whistleblowers who testified about the Department of Justice's misconduct and politicization in the Biden criminal investigation. Key takeaways from the hearing can be found here.
June 22 2023 Two IRS Whistleblowers spill the beans
The Committee on Ways and Means releases IRS whistleblower testimony about the Department of Justice's politicization and misconduct with respect to allegations against Hunter Biden. Here are some of the key points:
The Biden family set up over 20 shell companies, most of which were created when Joe Biden was vice president.
The Biden family, their business associates, and their companies received over $10 million from foreign nationals from China, Ukraine, and Romania. IRS whistleblowers also presented evidence of Joe Biden's knowledge and possible involvement in his family's business schemes.
In early August of 2022, federal prosecutors from the Department of Justice Tax Division drafted a 99-page memorandum. This memorandum recommended approving felony and misdemeanor charges for the 2017, 2018, and 2019 tax years. If the Delaware U.S. Attorney David Weiss followed DOJ policy as he stated in his most recent letter, Hunter Biden should have been charged with a tax felony, and not only the tax misdemeanor charge. We need to treat each taxpayer equally under the law."
IRS Supervisory Special Agent Gary Shapley testified, "I am here to tell you that the Delaware USAO and Department of Justice handling of the Hunter Biden tax investigation was very different from any other case in my 14 years at the IRS. He noted how evidence, including the laptop, was concealed from investigators.
Supervisory Special Agent Shapley testified, "After an electronic search warrant on Hunter Biden's Apple iCloud led us to WhatsApp messages with several CEFC China Energy executives where he claimed to be sitting and discussing business with his father Joe Biden, we sought permission to follow up on the information in the messages. Prosecutors would not allow it.
IRS whistleblowers who investigated Hunter Biden's evasion of taxes on his $8.3 million in income today exposed the Department of Justice's politicization and misconduct during the investigation. The Department of Justice prevented investigators from following evidence that could have led to Joe Biden; divulged sensitive information to Hunter Biden's attorneys; and allowed the clock to run out to prevent charging Hunter Biden with felonies.
President Biden's politically appointed U.S. Attorneys for D.C. and Central District of California denied the U.S. Attorney in Delaware's request to bring charges, which has now put Hunter Biden on the path to a sweetheart plea deal. Additionally, the IRS whistleblowers' testimony confirms the Oversight Committee's findings about the Biden family's influence peddling schemes.
When asked about the FBI's FD-1023 form alleging Joe Biden was involved in a bribery scheme with a Burisma executive, both Shapley and Ziegler confirmed they never had seen or heard of it during the investigation. Ziegler went on to say that they had potentially corroborating evidence.
Special Agent Ziegler confirmed to Rep. Byron Donalds that the Bidens received $17.3 million income from China, Ukraine, and Romania from 2014-2019. The House Oversight Committee has identified $10 million and counting, revealing how the IRS whistleblowers' testimony confirms the committee's investigation.
IRS whistleblowers told Rep. Gary Palmer (R-Ala.) that critical evidence was withheld from investigators, including the FBI's Biden Bribery Record and the Hunter Biden laptop.
In addition, the IRS whistleblowers stated that Joe Biden was physically at at least one of Hunter Biden's so-called business meetings:
Mr. Grothman: "And did Rob Walker tell you that President Biden had ever showed up to a meeting with his son's business associates?"
Mr. Shapley: "He told us that [President Biden] had shown up to the meetings…the witness described an instance where CEFC executives were meeting at the Four Seasons and that the subject's father, President Biden, showed up at that meeting."
Mr. Grothman: "So President Biden was there physically?"
Mr. Shapley: "That's what the witness said, yes."
Hunter Biden failed to pay taxes on his Burisma Bribes
Rep. Michael Turner (R-Ohio) asked witnesses about Hunter Biden's unpaid taxes on income from Burisma in 2014, which Hunter attempted to categorize as a loan. Both whistleblowers testified that Hunter Biden owes $145,000 in unpaid taxes on $400,000 of income from 2014. Due to DOJ's slow walking, the statute of limitations expired, allowing Hunter Biden to get away with this tax evasion.
https://oversight.house.gov/release/hearing-wrap-up-irs-whistleblowers-expose-how-bidens-were-treated-differently%EF%BF%BC/
Records obtained through the Committee's subpoenas to date reveal that the Bidens and their associates have received over $10 million in payments from foreign entities.
2020 Election… Hunter Biden Laptop from Hell
In the weeks before the 2020 Presidential Election, the New York Post wrote an article exposing hundreds of emails that were on Hunter Biden's laptop. Here is a link to this now famous article:
https://nypost.com/2020/10/22/hunter-ex-partner-tony-bobulinski-calls-joe-biden-a-liar/
A tranche of emails from a hard drive belonging to Hunter Biden — published exclusively by The Post last week — revealed how the scandal-scarred son tried to leverage his family connections to land lucrative deals overseas and boost his Burisma pay.
Speaking before reporters at a Marriott hotel near the debate site Thursday evening, Bobulinski claimed he had a falling out with the Biden family when Hunter Biden wanted to pocket $5 million from an initial $10 million cash injection into SinoHawk, ponied up by CEFC.
"He said, referring to 'the chairman,' his father, that CEFC was really investing in the Biden family, that he held the trump card and that he was the one putting his family legacy on the time," said Bobulinski, who declined to take questions afterward.
"During these negotiations I repeated to Hunter and others that SinoHawk could not be Hunter's personal piggy bank,".
The Deep State and the Biden campaign claimed that the Biden laptop was a Russian plot to steal the election. However, we have since learned that the laptop was not a Russian plot. It was real. And the Biden campaign and the Deep State lied to the American people in order to steal the 2020 Presidential election.
Here is more smoking gun evidence from the Biden Laptop:
July 30, 2017: In a WhatsApp message to a Chinese company, Hunter Biden states, "Please have the director call me – not James or Tony or Jim – have him call me tonight. I am sitting here with my father and we would like to understand why the commitment made has not been fulfilled. I am very concerned that the Chairman has either changed his mind and broken our deal without telling me or that he is unaware of the promises and assurances that have been made have not been kept. Tell the director that I would like to resolve this now before it gets out of hand. And now means tonight. And Z if I get a call or text from anyone involved in this other than you Zhang or the Chairman I will make certain that between the man sitting next to me and every person he knows and my ability to forever hold a grudge that you will regret not following my direction. All too often people mistake kindness for weakness – and all too often I am standing over top of them saying I warned you. From this moment until whenever he reaches me."
Hunter Biden goes on to say, "Ok my friend – I am sitting here waiting for the call with my father. I sure hope whatever it is you are doing is very very very important."
August 2, 2017: Hunter Biden writes "The chairman changed that deal after we me[t] in MIAMI TO A MUCH MORE LASTING AND LUCRATIVE ARRANGEMENT to create a holding company 50% percent [sic] owned by ME and 50% owned by him. Consulting fees is one piece of our income stream but the reason this proposal by the chairman was so much more interesting to me and my family is that we would also be partners inn [sic] the equity and profits of the JV's investments."
Note: On August 2, 2017, the joint entity, Hudson West III, LLC was formed, with 50 percent owned by CEFC agent Gongwen Dong and 50 percent owned by Hunter Biden.
On August 3, 2017 in a Whatsapp exchange, Hunter Biden tells CEFC associate Gongwen "Kevin" Dong, "The Biden's are the best I know at doing exactly what the Chairman wants from this [partnership]." Gongwen Dong is a business associate of Chairman Ye Jianming who executed numerous transactions on the Ye's behalf.
On August 4, 2017, CEFC wires $100,000 to Hunter Biden's company, Owasco PC.
On August 8, 2017, CEFC wires $5 million to Hudson West III.
On November 8, 2017, Patrick Ho, a CEFC agent in America, was arrested at JFK airport on suspicion of bribery and money laundering on behalf of CEFC China.
On March 1, 2018, Hunter Biden business partner, Ye Jianming was detained by Chinese authorities for "suspected economic crimes." His whereabouts remain unknown.
On March 23, 2018, Hudson West III LLC and CEFC are both dissolved.
On December 5, 2018, Patrick Ho was convicted for violating the Foreign Corrupt Practices Act in a multinational bribery scheme and money laundering offenses.
The final nail in the coffin: On Monday, July 31, 2023, the House Oversight Committee held a closed hearing to ask Hunter Biden business partner Devon Archer questions about the Biden Burisma Bribery scandal. Devon confirmed that Hunter had called Joe Biden on the speaker phone on more than one occasion when he was meeting with Burisma executives. This new revelation comes just two weeks after IRS whistleblowers confirmed that Joe Biden met in person with Hunter Biden at a Washington DC restaurant while Hunter was having a business meeting with these same Burisma executives.
Conclusion
It is amazing that despite this mountain of evidence of millions of dollars in bribery and kickback schemes, that the leaders of the Democratic Party still support Joe Biden for re-election.
As always, I look forward to your questions and comments.
Regards, David Spring M. Ed. David Spring at Proton Mail dot com