Hack Everything Special Report
H
ack Everything is an 85 page detailed Timeline of the DNC Hack. This report also includes the results of our extensive research into the 876 IP addresses in the Grizzly Steppe report. Our conclusion is that it is extremely unlikely that Russia committed the DNC
cyber
attack. To find out who did, please take the time to read our full report. Then share this report with anyone you know who is interested in learning the truth about the DNC hack.
Y
ou can read this report a
t
the following series of
8
links. Our you can download a free PDF of our report by clicking on the Download link in our main menu.
As our
site may be taken down at any moment,
p
lease help us
get the word out
by sharing this report.
Permission is granted to download,
distribute
,
repost & republish all or any part of th
is
report on any website.
If you have any questions or comments, feel free to email us.
D
avid Spring M. Ed.
This email address is being protected from spambots. You need JavaScript enabled to view it.
January 10, 2017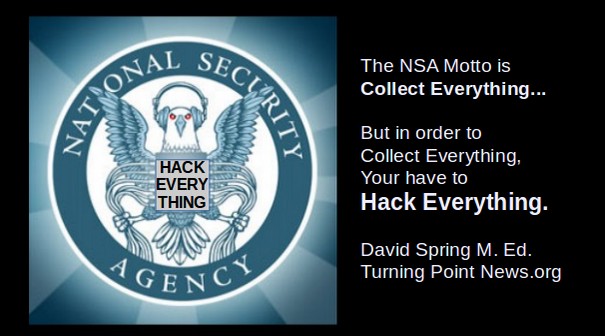 Executive Summary… A Primer on the Power of the NSA
Part 1: Evolution of Cyber Warfare Weapons 2007 to 2015
September 1, 2007: The NSA begins the Prism Collection Program.
June 6, 2013: Snowden Provides Documents Confirming the Power of the NSA
February 16, 2015 Kaspersky exposed the Equation Group
February 28, 2015: Kaspersky links Cozy Bear to Cozy Duke.
Part 2 Details of the DNC Hack... July 2015 to May 2016
September 2015: Cozy Bear also known as Cozy Duke attacks DNC network.
March 22, 2016: Fancy Bear Prepares to Attack the DNC
March 22, 2016: Billy Takes the Bait (so did Podesta)
March 22, 2016: Fancy Bear used a Ukrainian Server in their Email Attack
May 1, 2016: Crowdstrike kicks Cozy Bear & Fancy Bear Out of DNC Server
Part 3 Summer of Spin...The DNC Hack: June to August 2016
June 12 2016: Wikileaks Announces Clinton Data Release is Imminent
June 14, 2016: Crowdstrike releases DNC Hack Report
June 17, 2016: German Hack Smoking Gun turns out to be Smoke & Mirrors
July 10, 2016: DNC staffer Seth Rich killed in Washington DC
July 22, 2016: Wikileaks published DNC Leak Documents
July 24 2016: Wikileaks issues Tweet Implying Source is an Insider
July 31, 2016: Former NSA Lead Administrator, William Binney says the Hack was not done by Russians but by the NSA
Part 4 Ongoing Allegations... September to December 2016
September 15, 2016 Server Company Provides Analysis of Hacker Locations
October 7 2016: US issues Press Release Blaming Russia for DNC Hack
October to November 2016: Over the course of a month, Wikileaks publishes more than 58,000 emails hacked from the Gmail account of John Podesta.
November 2 2016: Wikileaks says Russia is not the source
November 8 2016: Media claims odds of Hillary winning as high as 90%.
November 24, 2016 Washington Post issued a story claiming that Russian propaganda help spread fake news through a list of 200 fake news websites.
November 30 2016: Congress passed bill authorizing Ministry of Truth for 2017
December 14 2016: Craig Murray, one of their leaders of Wikileaks said that their source was not a Russian but rather a "disgusted Democratic party insider."
December 16 2016: Digital Fingerprints Turn Out to be Paw Prints
December 22, 2016: Smoking Gun Alert…Dimitri, Crowdstrike & Ukraine
Part 5 DHS/FBI Grizzly Steppe Report..December 29 & 30, 2016
December 29 2016: The DHS/FBI Grizzly Steppe Report Turns out to be Proof that the NSA does not like the TOR Project
December 30 2016 Glaring Problems with the Grizzly Steppe Report
December 30, 2016 Security Expert John McAfee Explains why he is certain the Russians did not hack the DNC
Part 6 The Rush to War... January 2017 to Present
January 3, 2017: Assange Explains Why a 14 Year Old Could Have Hacked Podesta's Email
January 5 2017: John McCain, who has called for a Declaration of War against Russia, holds a Senate Armed Services Committee hearing
January 5, 2017 DNC says FBI never asked to access hacked computer servers
January 6, 2017: FBI claims DNC Refused to Give them Access to Hacked DNC Server
January 6 2017 US Intelligence Groups Issue the Dumbest Report I Have Ever Read
January 7 2017 Wikileaks Craig Murray says source is Washington Insider
January 10, 2017: David Spring with Turning Point News publishes "Hack Everything, A Detailed Timeline of the DNC Hack."
Part 7 Who Really Hacked the DNC
Were either Cozy Bear or Fancy Bear Teenage Hackers?
Part 8 Cyber Warfare as a Business Model
Conclusion… How to Really Protect Yourself from NSA Cyber Weapons

About the Author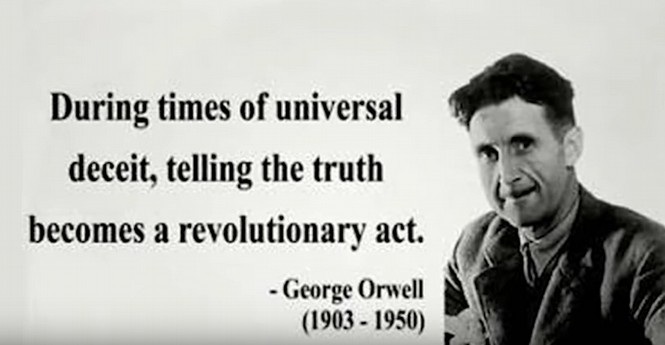 Dedication
This report is dedicated to Edward Snowden, a true patriot who understood that his duty was
not to defend and protect dishonest leaders, but to defend and protect the Constitution of the United States. Many suspected we were all being watch from "behind the curtain."
Snowden risked his life to give us the proof.
Acknowledgements
This report provides links to more than 100 other reports. Each of these reports provided the pieces in putting together this complex puzzle. nI want to thank all of these researchers for their work. Together, we can and will overcome deception and deceit. Those pushing for cyber warfare may have massive amounts of money.

But we have a more powerful weapon… The Truth.
Things have only gone from bad to worse in the first weeks of January 2017. Nearly every day we are told that there is "new evidence" of Russian hacking. But the new evidence is never released.
January 3, 2017:

J

ulian Assange Explains Why a 14 Year Old Could Have Hacked Podesta's Email
Julian Assange of
WikiLeaks says that the Russian government did not provide him with the hacked DNC emails
during a televised interview.
Julian Assange stated that Podesta's password for his Gmail account was "password."
For those who may not know, the word password is the most common password and is the first password checked by hackers when trying to access any login screen. Here is a quote from the interview:
"Podesta gave out that his password was the word 'password' ... a 14-year-old kid could have hacked Podesta."
http://www.foxnews.com/politics/2017/01/04/wikileaks-assange-14-year-old-kid-could-have-hacked-podesta-emails.html

Assange also repeatedly stated that Wikileaks gained access to the Podesta emails from a leak and not a hack and that the source of the leak was not Russia.
Assange, who is a former computer security consultant, also stated that Hillary Clinton made "almost no attempt" to protect the private server that stored her State Department emails. I have previously written about how insecure the Clinton server was and that any teenager could have hacked it using programs and methods available through a simple Google search. While the main stream media claims that the Clinton server was hacked by Guccifer and that Guccifer was Fancy Bear or Cozy Bear and therefore a Russian spy, the fact is that Guccifer could just have easily been a bored American teenager with too much time on his hands.
Read more: Hack Everything Part 6 -The Rush to War - January 2017 to Present
If the Russians did not hack the DNC servers, then who gave the data to Wikileaks?
This leads to the important question of how Wikileaks got all of the emails and other data it released which certainly did influence the outcome of the US elections. According to both of the major sources in Wikileaks, Julian Assange and Craig Murray, they got the data from "a disgusted DNC Democrat" who was mad about how the DNC treated Bernie Sanders.
http://www.washingtontimes.com/news/2016/dec/14/craig-murray-says-source-of-hillary-clinton-campai/
Both Murray and Assange have repeatedly stated that they did not get the information from the Russians. We therefore conclude that if the DNC was hacked (which it likely was), then it was hacked by the NSA using Cozy Bear and Fancy Bear as a cover – knowing that Cozy Bear and Fancy Bear were specifically written to fool consultants like Dimitri and Cloudstrike into thinking that it was a Russian hacking program. Obviously, the NSA is not going to give any of its information to Wikileaks. But in addition to these two hacks by Cozy Bear and Fancy Bear, a disgusted member of the DNC also got the information directly from the DNC database, put it on a jump drive and handed the jump drive to Craig Murray. In other words, we conclude that the DNC was hacked and also subjected to an insider leaker. Thus, Wikileaks claim that it was a leak is true. But their claim that it was not a hack may not be accurate as there is evidence of a hack.
Read more: Hack Everything Part 7 - Who Really Hacked the DNC
Nearly 100 years ago, an American war hero named General Smedley Butler wrote a book called War is a Racket. He claimed that wars were being deliberately provoked in order to increase corporate profits. He said that the American people were being lied to by wealthy people who controlled the American press in order to provoke fear and get them to agree to go to war. Here is a link to his book. https://www.ratical.org/ratville/CAH/warisaracket.html
50 years later, another American war hero, General (and then President) Dwight Eisenhower, warned of a growing "military industrial complex" that was a threat to our democracy. Here is a link to his speech. https://www.youtube.com/watch?v=8y06NSBBRtY
Today, the US has more than 700 military bases around the world and numerous bases here in the US. Including secret spending for our new Global War on Terror, as mentioned at the start of this article, the US spends more than one trillion dollars per year on war – much more than the rest of the world combined. http://www.globalresearch.ca/the-worldwide-network-of-us-military-bases/5564
The purpose of this worldwide network of chaos is not to protect Americans but simply to increase corporate profits by sucking one trillion dollars a year out of the American economy – money that could have been used to provide free higher education and health care for every American. Because of this annual feast of a trillion dollars being shelled out, our elected officials have been corrupted with a vast bribery and kickback scheme that has turned our elections into a "pay to play" bidding war between various wealthy corporations. These same corporations monopolize the American media with the goal of scaring the American people into supporting this war machine into voting for war hawks willing to do the bidding of their corporate masters. This same "warfare as a business" model is now being used to create Permanent Cyber War on the Internet. Folks with websites need to be aware of this because you will certainly be caught in the crossfire of this cyber warfare machine.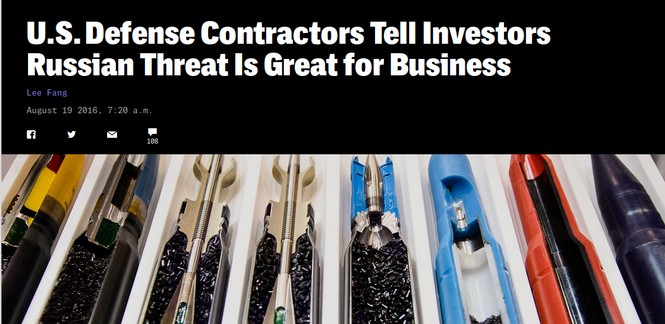 Thus, the most important thing to know about the current campaign to launch a cyber war against Russia is that it will create massive corporate profits. In the summer of 2016, there was a conference on how to profit from the coming cyber war. This conference was documented in the following article:
https://theintercept.com/2016/08/19/nato-weapons-industry/
False Allegations have been used before to start wars…
Doesn't Anyone Remember the Gulf of Tonkin Incident?
This means that the US is about to start a cyber war with Russia over a hacking incident created by our own NSA. This is nearly identical to the Gulf of Tonkin incident that was used as an excuse by the US military to go to war against Vietnam in the 1960s. That incident turned out to be completely false. Yet millions of people died. The NSA claimed that there was a North Vietnamese attack on August 4 1964. But in 2003, former US Secretary of State Robert McNamara admitted that the the August 4 1964 attack never happened. Moreover, there is substantial evidence that it never happened. The Vietnamese leaders also have confirmed that it never happened. The entire Vietnam War disaster was based on a lie – just like the Iraq War was based on a lie. https://en.wikipedia.org/wiki/Gulf_of_Tonkin_incident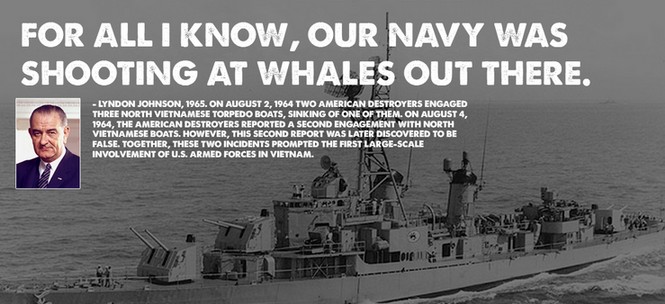 Why Would Our Own Government Lie to Us?
Many readers protested to our previous article asking why our own government would lie to us. I am not certain but I think it has something to do with making money. The Cyber Warfare Industry has become BIG BUSINESS accounting for billions of dollars in corporate sales and profits since 911. All of the attacks on US corporations have forced all of them to hire cyber consultants and buy expensive cyber products to protect their computers and data. There is a danger in developing such a business model as it could lead to nuclear war with Russia. It could also lead to some former NSA employees deciding to take down the US electric grid or US nuclear power plants. We therefore should understand cyber warfare and a business model and take steps to provide real security for our computers, databases and websites.
Read more: Hack Everything Part 8 - Cyber Warfare as a Business Model
D
avid Spring has a Master's Degree in Education from the University of Washington. He has taught adult education courses for more than 20 years at several colleges in Washington State including Bellevue College, Seattle Central Community College and Shoreline Community College.
In recent years,
David
has
gotten more deeply involved in computer and website security. He has
written extensively about the history of Microsoft and the NSA.
Here are links to his three most recent books:
Free Yourself from Microsoft and the NSA
https://freeyourselffrommicrosoftandthensa.org/
Learn Linux and LibreOffice
https://learnlinuxandlibreoffice.org/
Weapons of Mass Deception…
The Billionaires Plan to Take Over Our Public Schools
https://weaponsofmassdeception.org/
David
lives near Seattle Washington with his daughter Sierra Spring, his
wife
Elizabeth Hanson,
her son Chris Hanson, several cats and four free gnomes
.
David Spring, Elizabeth Hanson and our four free gnomes.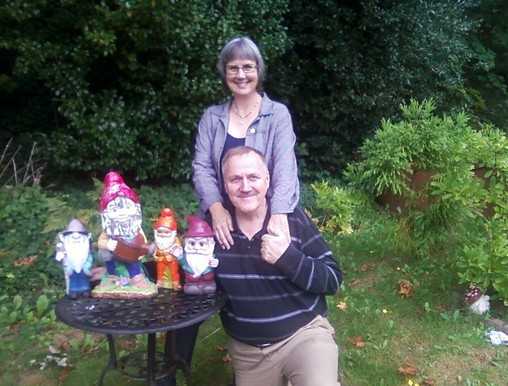 You can contact David at the following email address:
This email address is being protected from spambots. You need JavaScript enabled to view it.